912-321-3419
The City of Walthourville provides water and sewer services to its residents. The City of Walthourville water system is managed by the city and monitored by the Georgia Environmental Protection Division. Our water is pumped from both the Floridian and Miocene aquifers and we only add chlorine and fluoride.
To initiate water service, you must complete an application and provide a Picture ID and lease agreement for renters or purchase agreement for homeowners.  The following deposits must be made to initiate service:
$50.00 Water
$50.00 Sewage
$25.00 Garbage
$15.00 Setup fee (nonrefundable)
Water Rates
Water services is provided to customers inside and outside of Walthourville city limits.  The base charge is $14.70 inside the city limits and $19.20 outside of the city limits.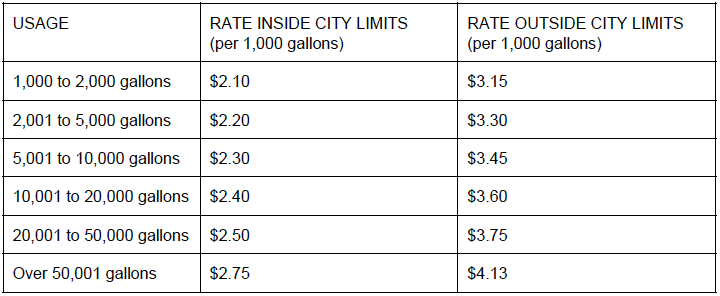 Sewer Rates
Sewer service is not provided outside of Walthourville city limits. The base charge is $30.00 per month with additional charges added based on usage.

Bills are mailed the 10th of each month and due on the 20th of each month. All bills that are not paid by the 25th of the month will be charged a late fee 10% of original bill. Bills not paid by the 5th of the following month will be cut-off and incur a $30.00 service fee to reconnect. We do NOT send out late notices.
You may make payments in the office or at the drive through Monday through Friday from 9 a.m. to 5:00 p.m., except holidays. An after hours drop box is also located at the drive through. Please do not place cash in the drop box.
Click here to make an online payment.
Pay via phone at 1-888-246-0415. You must have your account number and last four digits of the telephone number on the account.  For any questions or concerns, call 912-368-7501.